Director: Mikael Håfström
Starring: Sylvester Stallone, Arnold Schwarzenegger, Curtis "50 Cent" Jackson
It takes three things to escape a prison: know the layout, know the routine and have inside and/or outside help. Breslin (Sylvester Stallone) mastered obtaining all three and has been escaping out of prisons for the last seven years for a living. He works for the Federal Bureau of Prisons and their clients pay them to investigate whether their prisons are escapable or not.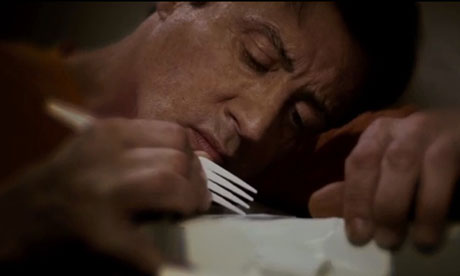 After escaping from another prison, Breslin was asked to enter another one right away but this prison is different from all the others. If you enter this prison you aren't just serving a sentence, you are banished from existence. The client wants to invest in this prison but want to make sure that their investing their money into a prison that is inescapable. Abigail (Amy Ryan), Lester (Vincent D'Onofrio) and Hush (Curtis "50 Cent" Jackson) all follow certain protocols before they allow Breslin to reenter, such as having an evacuation code and placing a tracking device in him. But with this client, Breslin's protocols backfired, and he was left to enter the prison with no help.
Although they took away Breslin's outside help, he manages to find inside help and makes a new friend inside the prison. Que to Rottmayer (Arnold Schwarzenegger), as soon as Breslin enters the super maximum-security prison Rottmayer takes interest in Breslin and automatically befriends him. Breslin knows that due to his disadvantage that he is going to need help and brings Rottmayer along for the ride.
Warden Hobbes (Jim Caviezel), who used Breslin's book to design the prison, is very strict and oversees every move that is made in his prison. He makes it his duty to make sure Breslin (after discovering his true identity) never escapes his prison. But no torture Hobbes puts Breslin through is strong enough to break him.
Escape Plan is a fun action movie starring two of the biggest action stars together for the first time in a film that isn't titled The Expendables. Stallone and Schwarzenegger's names are big enough to bring countless fans into theaters and greet them with a good film. But the problem that arises is that neither star puts their trademark into the film that will make fans pleased to say that they saw a film with Sylvester Stallone and Arnold Schwarzenegger. Basically, you can replace their characters with two different actors and the film will still give off the same vibe.
As for Director Mikael Håfström, he does a great job in not making the plot twists obvious and pushing the suspense throughout the film. Jim Caviezel does a superb job as Warden Hobbes, who is always two steps ahead of Breslin until it is time of the escape. Which is upsetting but will keep details to myself to avoid any spoilers.
Overall, Escape Plan does what it is set out to do and that is to entertain. Do I recommend going to the theaters and seeing it on the big screen? No, but if you are a Arnold or Sylvester fan than I recommend adding this DVD to your collection when it becomes available.
What The Delio?!: 7/10